I'm glad you decided to join us and you will be too…
I assure you, we don't take what just happened lightly.
You just gave us your email and became our newest VIP.
That's a VERY big deal to us.
Don't believe me?
After you pressed the submit button and sent us your email a tiny bell went off in our office. Our entire team can hear it, and when it went off everyone smiled.
Amy our purchaser and resident yogini said namaste and bowed her head and I think she already knows you because she said something about feeling deeply connected to you.
Jim our lead designer poured a shot of what I think is tequila from his desk and yelled, "cheers!" Wait, what… there's no drinking allowed in here. I will have a serious talk with him right after I finish writing this.
Our office dog Taylor's automatic treat dispenser dispensed a treat, Taylor also barked and he's now wagging his tail.
All kidding aside we hope every tool, piece of clothing & content we create will enhance your journey and inspire you to live a more epic life. If it doesn't, just hit reply to any email you receive from Awake & Aware and tell us how you really feel.
Thanks again for becoming VIP. We'll be in touch soon with some awesome stuff.
Nick, CEO & Founder of Awake & Aware, Inc.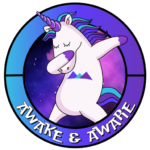 PS: Know anybody else who you think is worthy of VIP status?  Share consciousness with your network and be a hero.